Recruitment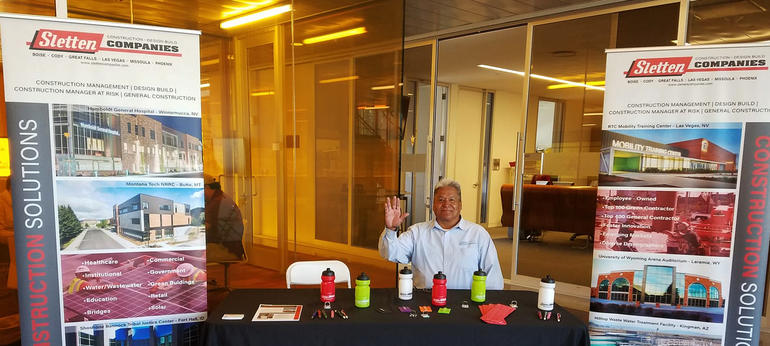 Career fairs are a staple event at most college campuses. They are designed to present students with the opportunity to meet with prospective employers while still in school. At Sletten Construction, we appreciate the opportunity to attend various career fairs to meet these eager individuals to discuss beginning a possible career with Sletten. We recognize the importance of interacting with students, graduates, instructors, and working adults to discuss job opportunities and inform them about our organization and industry.
Career Fairs Sletten Currently Attends:
Arizona State University
Boise State University
Grand Canyon University
Montana Tech
Montana State University
Salish Kootenai College
University of Providence
University of Nevada, Las Vegas
University of Wyoming
Internship Program
Sletten is eager to provide college students the opportunity to explore the construction industry and add value to their education and on the job training. Sletten is looking for students to fulfill internship roles during the summer months and possibly throughout the school year. We believe the experience of on the job training adds value to the student curriculum and enhances their learning experience. The internship should be an introduction into the construction industry that will allow one to gain experience that benefits the intern with training and knowledge of the industry.
Internships are open to individuals pursing degrees in Civil Engineering, Construction Management, Construction Engineering Technology, Occupational Health, Safety & Environment. Students pursuing all other related degrees in Engineering are also encouraged to apply. Successful candidates will have the opportunity to work with Superintendents, Project Managers and Project Engineers. Interns will be exposed to day-to-day challenges in the construction industry. Interns will work part of the summer performing field type work and part office/administrative type work, all under supervision. The intern should plan to work a minimum of 40 hours per week.
Job Shadow
Sletten encourages students in high school or trade schools to job shadow with our employees to learn more about the roles in the industry. We can arrange job shadow opportunities with Superintendents, Project Engineers, Project Managers, Safety and Administrative Professionals. We work with the student and school counselors to best accommodate students requests to explore the various roles offered with our company.