LEED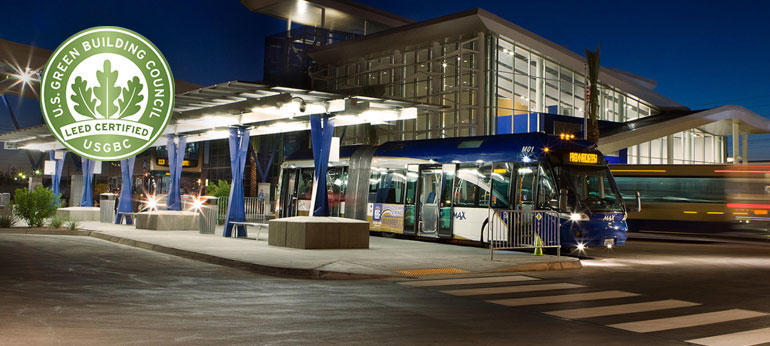 Throughout Sletten Construction's history, we have consistently worked with our clients, building a team and design partners to create high-performance buildings for sustainably-minded clients, providing cost and constructability input in a project's early stages, developing relationships with specialty subcontractors to complete the construction.
This partnership has extended to working with the National United States Green Building Council (USGBC) to better define building guidelines and in most cases, by striving to achieve Leadership in Energy and Environmental Design (LEED) certifications. LEED-certified contractors, Sletten Construction is comprised of several in-house LEED accredited professionals and project team partners.
Working throughout Arizona, California, Idaho, Montana, Nevada, Texas and Wyoming, Sletten has represented client interests in minimizing utility costs and constructing buildings that operate cost-effectively with the minimum degree of maintenance possible. Sletten has extensive experience in not only constructing buildings to LEED standards but also the certification of buildings to earn LEED certification. We utilize our LEED Accredited Professionals to fully integrate building system design into a high performing, efficient, comfortable and maintainable facility.
Sletten's recent LEED experience includes working with Clark County School District to build the first LEED-certified school in the state of Nevada. The Northwest Career and Technical Academy achieved a Silver rating and included energy efficiency features that reduced the energy requirements of the academy by 50 percent. Currently, we have several facilities under construction or recently built using sustainable building practices.
Sletten is also directing its sustainability efforts within the company. We are always working to turn ourselves into a greener company by making our offices, job sites and work habits more sustainable. We continue to expand the number of LEED Certified employees each year along with our list of LEED Certified projects. Sletten Construction has offices in Phoenix AZ, Cody WY, Las Vegas NV, Boise ID, Great Falls MT, Missoula MT, Billings MT, and also serves CA and TX.
For more information on building green visit http://www.usgbc.org

Click here to see the areas where we work.
We offer services in these states: