Alternate Delivery Methods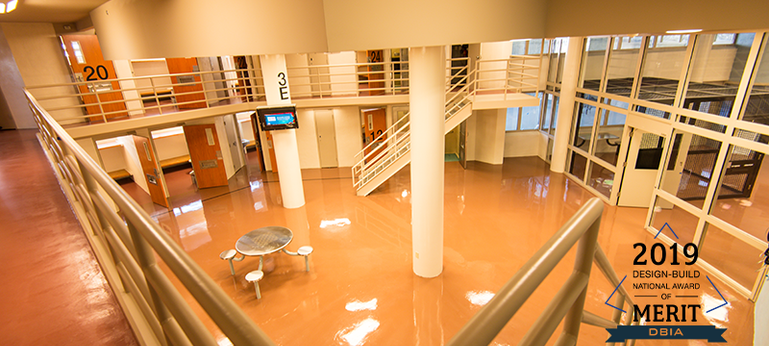 Design-Build (D-B)
Our Team excels at the Design-Build delivery method and understands the value of integrated partnering. Our D-B philosophy is centered around team integration, open communication and collaborative problem solving. Our in-house staff includes Design/Build Institute of America (DBIA) certified members that can bring the knowledge and expertise to this delivery method.
Since 1928, Sletten has completed over $1B in Design-Build and Alternate Delivery projects throughout the western United States. Some of our DB projects include, educational facilities, healthcare facilities and correctional and public safety buildings. Sletten recently won the National 2019 DBIA Merit award for the Clark County Detention Center Phase II project with DLR Group Architects.
Construction Manager At Risk (CMAR) and GC/CM
Sletten Construction collaborates with the Owner and the Design Team to identify alternate design approaches, value engineering opportunities and innovative ways to manage the budget, schedule and design long before we break ground. Our experience surpasses $1B in CMAR and GC/CM projects across the western United States. Since 1928, we have completed retail, healthcare, educational, bridge, energy, and correctional facilities.
Public-Private Partnership (P3)
P3s are contractual agreements between a private entity and a public agency for design, construction, renovation and operation of a facility. Sletten can help your team get a P3 off the ground and manage the project through completion.
Construction Management (CM)
We provide one team to oversee design, costs, schedule and construction from conception to closeout. Our experts understand all elements of the work and use their experience to ensure every job is successful.
Our construction management approach includes the following items:
Establish Key Team Members and project goals
Verify chain of communication and expand to include new team members
Establish site safety plans, conduct regular subcontractor and safety meetings and obtain permits
Coordinate regular internal and Owner meetings
Verify and maintain Construction Schedule, provide 3-week look-aheads and phasing considerations
Manage RFIs, Submittals, and the Record Documents
Provide ongoing QA/QC by Sletten's Superintendent, MEP coordinator, Project Manager and Architect.
Provide Daily reports and monthly updates
Manage the GMP allowances and contingency requests
Submit all project closeout documents prior to Substantial Completion
Prepare Contractor's punchlist
Owner Representation
Sletten Construction advocates for the Owner's goals, to ensure a successful project and seamless process for all involved. We will work through the entire process, including site selection, design team and subcontractor selection, permitting, preconstruction, requests for proposals, construction, estimating and scheduling.